Doha Fintech Executive Forum

Date: 24th October 2023
Time: 8:00 AM to 1:00 PM (Including coffee break and lunch)
Venue: Sheraton Grand Doha Resort & Convention Hotel, Doha, Qatar
On October 24th, over 50 executives from Qatar's thriving banking sector and key players in the pure fintech industry will gather in Doha to inspire greater innovation and nurture connectivity within the financial ecosystem, in harmony with Qatar's National Vision 2030.
Access
Exclusive benefits
Delve into groundbreaking innovations and engage in thought-provoking discussions that are paving the way for the future of finance.
Networking & Strategic Partnerships
Connect with decision-makers, fintech pioneers, and potential collaborators. Our event is designed to foster meaningful connections that can propel your network and drive more innovation to your company.
Immersive Interactive Sessions
Dive into engaging discussions and workshops with industry experts. Gain invaluable insights into emerging trends, challenges, and opportunities in fintech. Roundtables enable attendees to expand their professional networks and bring breakthrough ideas back to the office.
Qatar's Finest with an international flair
Join us in celebrating the warm and welcoming atmosphere of Qatar, our generous host. Enjoy meaningful meals and conversations as we come together to a country that has embraced our company with open arms.
A Decade of
Empowering Businesses!
Naxxum Group is a global IT consultancy company with over a decade of experience in developing software solutions for banking and insurance companies. Our operations span across 10 offices worldwide with a successful track record of project around the world

We are hosting our first event in Qatar, marking the first anniversary of Naxxum Middle East. Our mission is clear: to create a smarter, more inclusive financial ecosystem where finance & technology knows no bounds.
At Qatar Fintech Executive Forum, we welcome industry changemakers, entrepreneurs, and leaders from the dynamic Qatar banking and fintech sector, gathering leaders from the Qatar Financial Center to Oracle's latest Fintech solution.

Fintech is more than just a phase; it's reshaping the future as we know it! Join us to disover what lies beyond finance.
Join our exclusive FinTech discussion with industry experts & explore what lies beyond finance!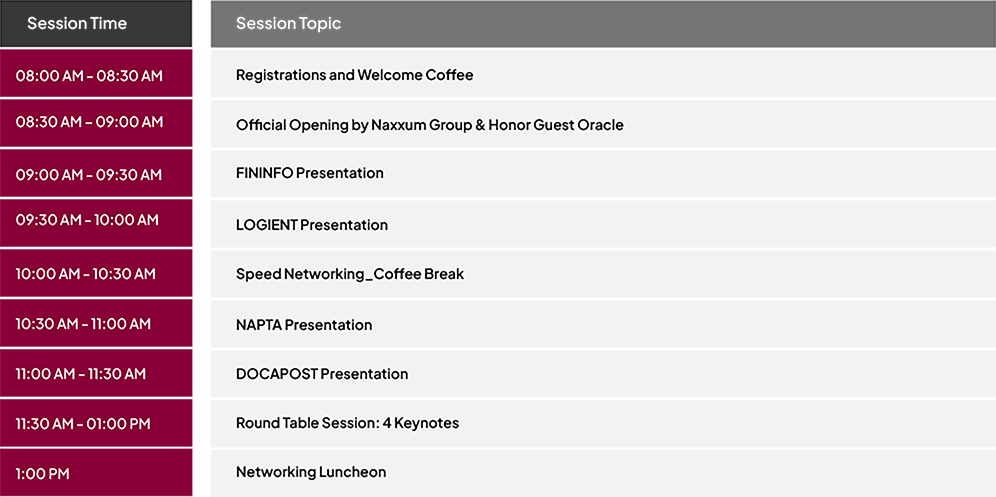 Reserve Your Free Guest Pass Now
By registering you will join our waiting list now alongside fellow executives for the Qatar Fintech Executive Forum on October 24, 2023, at Sheraton, Doha, Qatar. 
Please fill out the requested fields, Fields marked with an * are mandatory
A professional will reach out to you once your business requirements are analyzed.
As needed, we sign an NDA to ensure your privacy is respected.
A Pre-Sales Agent provides a project proposal.
The team created especially for your IT project can start delivering within ten business days.